DAGROUP
PAINTOUT AND EXHIBIT OPPORTUNITIES
XXXXXXXXXXXXXXXXXXXXXXXXXXXXXXXXXXXXXXXX
XXXXXXXXXXXXXXXXXXXXXXXXXXXXXXXXXXXXXXXX
DE YOUNG MUSEUM
Our Walls, Your Artwork
We are excited to announce a juried exhibition welcoming submissions by artists from the nine Bay Area counties. Titled The de Young Open, this showcase will debut after the Museums reopen to the public.
Whether self-taught or professionally trained, all Bay Area artists are invited to submit newly created artworks for possible inclusion. Exhibiting artists can offer their artworks for sale and will retain the full proceeds.
We look forward to filling 12,000 square feet of gallery space with works of art by Bay Area artists, in support of local art communities. Follow the link to read our submission guidelines. If you know someone who might be interested, please spread the word.Width12000Width3 Width11280Width3 Learn MoreWidth12000Width3 Width12000Width3 Width12000Width3 Width11280Width3 Questions? Please contact: deyoungopenexhibit@famsf.org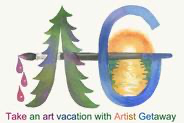 Plein Air Painting in 2016
May 2016 is packed full with painting! Artist Getaway is going to Occidental May 1 - 6 to paint in the redwoods, and at the beach. Then there's the Carmel Plein Air Festival May 11 to 15. Enter here I wish you good luck to all who enter, the deadline is December 1. After that Artist Getaway goes to Murphys to paint the Stanislaus River and Lake Alpine. May is going to be fun! If May doesn't work for you come join us October 16 - 22 when Artist Getaway goes back to Occidental. We do love it there! And stay tuned for more Artist Getaways being planned and posted on www.artistgetaway.com for 2016. 
Artist Getaway 2016
Occidental, May 1-6, 2016
Murphys, May 22-27, 2016
Occidental, October 16-22, 2016
Register today!