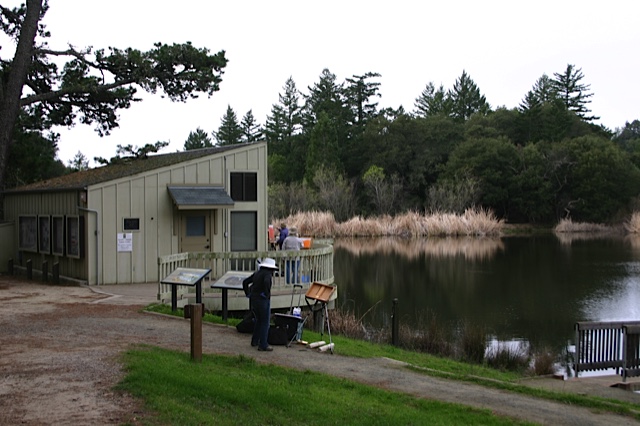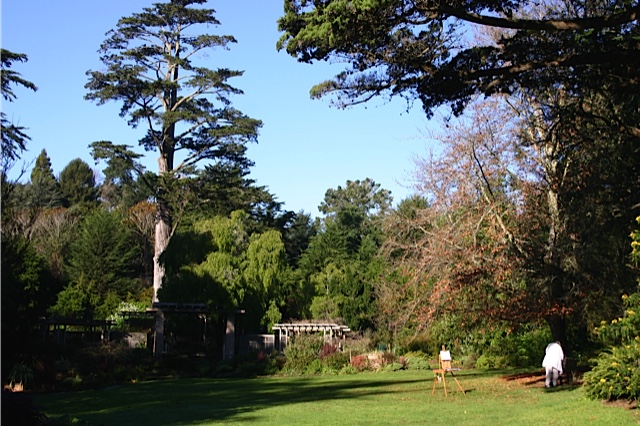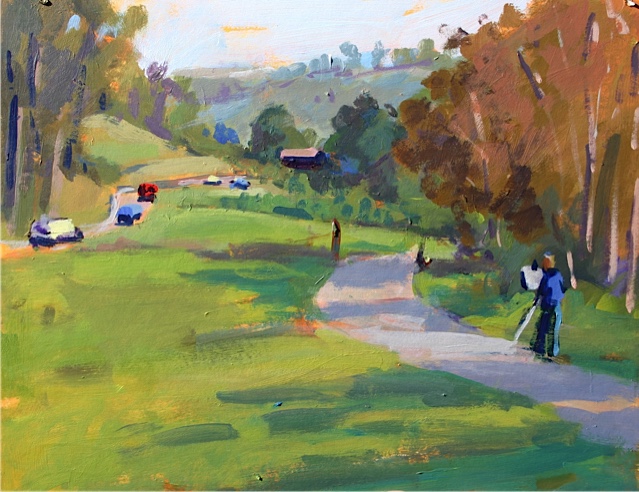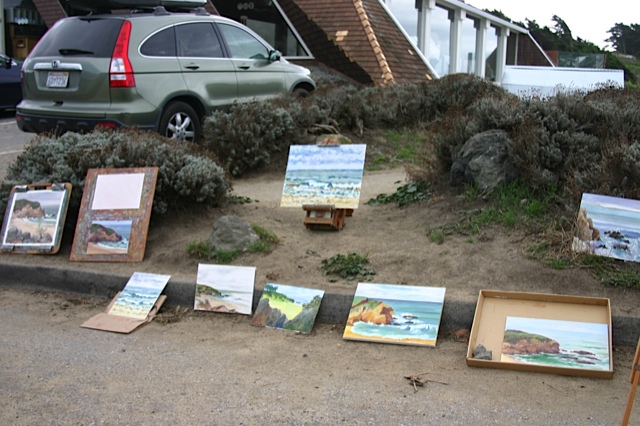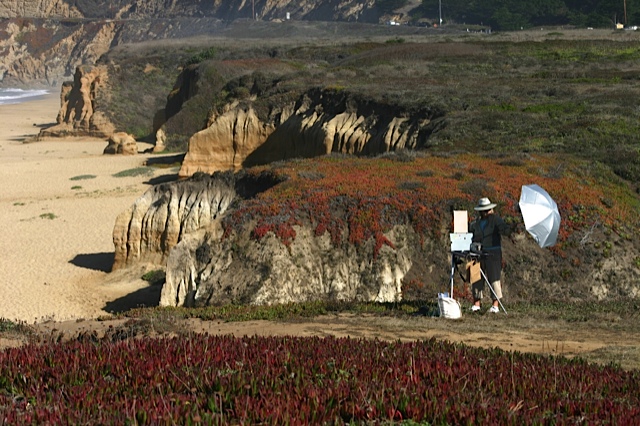 Peninsula Outdoor Painters  
9: 30 Tuesdays.  Bring a bag lunch.  Come and Enjoy the day.
We have a large group, so this year we are spreading out.   
On some of the dates there are also alternate locations to choose from.  
If you have a digital camera, take photos of your groups paintings. Email the photos to Sue Wilson <pleinairlinks@mac.com> and we will post the photos on the website.
Rules for the Open Space Preserves.....and actually, any or our sites.
Yield to equestrians.
Avoid blocking the trails.
Stay on designated trails....that is a little tricky for us, since we cannot block the paths....use your common sense and set up off to the side if it is a narrow path.
Do not dump any dirty paint water or solvents.
Leave your painting area spotless.
Peninsula Outdoor Painters
We are scheduling only one site for every two weeks this year with few exceptions. We are encouraging artists to use the whole day.  
Too tired to paint all day....then paint in the morning and stay for lunch, or come for lunch and an afternoon painting session.  We are hoping more people will be painting in the afternoons, so that when you come in the afternoon, you can expect to see other artists.  A WINTER PLUS....IT WILL BE WARMER IN THE AFTERNOONS!
Dear POPs Artists, 
POPS SCHEDULE – JAN. – JUNE 2020 Reopened with caution due to COVID19 - send in Art-at-Home painting photo once a week here.
The POPs Schedule for July and August 2020 is posted below. The schedule for September - December will be posted in August.
We have provided you with a link to the website for each venue so that you can check on the opening status and any restrictions and make your own decision regarding whether you feel comfortable painting there. Be sure to wear a mask and practice social distancing. Travel from your home to the painting site should not involve significant distances.
CHANGE:
POPS Schedule, Sept. - Oct. 2020, Effective Sept. 1, 2020
Sept 1 & 8 -- San Francisco Conservatory, https://conservatoryofflowers.org/ &Dahlia Garden (Golden Gate Park)
Painting Interests: Dahlia Garden, structures, gardens. Picnic area under trees.  Restrooms on the west side of the Conservatory.
Directions: North from San Jose. Take Hwy 280 north to 19th Ave. Exit. Take 19th Ave. to Golden Gate Park. Turn at First Right onto Martin Luther King Drive. Turn Left on Nancy Pelosi Dr. Turn Right on John F. Kennedy Dr. Make an Immediate Left on Pompei Circle for parking.
Sept. 15 & 22 -- Brisbane Marina. 400 Sierra Point Parkway, Brisbane, CA 94005, https://www.brisbaneca.org/marina
There are views of the Bay and Marina. Restrooms are available.  
Directions:
From 101 Southbound: Exit Sierra Point Parkway. Continue straight on Sierra Point Parkway after the stop sign. The lagoon will be on your right and you will eventually cross under the freeway. Keep going straight all the way to the waterfront.
From 101 Northbound: Exit Sierra Point Parkway. Turn right onto Sierra Point Parkway which leads to the waterfront.
Sept. 29 & Oct. 6 --LAND'S END, 680 Point Lobos Ave., San Francisco 
http://www.parksconservancy.org/visit/park-sites/lands-end.html?referrer=https://www.google.com/
Lookout, Visitor Center, restrooms.
Directions: From South: Take the Great Highway past the Cliff House and Louis 
Restaurant. On the left there is a large parking lot is by the visitor center. At the end of the parking lot there are views of Sutro Bath ruins, Seal Rock, trees, ocean and beach.
From San Francisco: Take Geary Blvd, right on 48th and left on Point Lobos Ave.
Oct. 13 -- San Francisco Botanical Garden (One time visit. There is no admission fee to the Garden on the 2d Tues.  of the month)
In Golden Gate Park, with entrances at the corner of Ninth Ave. at Lincoln Way (Main Gate) & at MLK Jr. Drive off the Music Concourse.  Lunch near the Friend Gate (see map: https://www.sfbotanicalgarden.org/graphics/pdf/04SFBGSA_BW_Map.pdf)
Oct. 20 & Oct. 27 - Baker Beach, San Francisco, https://www.nps.gov/prsf/planyourvisit/baker-beach.htm
Painting Interests: Baker Beach is in the Presidio with views of the Golden Gate Bridge and Marin Headlands. Porta potty at parking lot.
Directions: North from San Jose via 280: Take 19th Avenue exit to Golden Gate Park. Stay in left lane and take Crossover Drive to 25th Avenue. Continue for about a mile then turn right on El Camino Del Mar, which becomes Lincoln. Turn left on Bowley Street and first right on Gibson Road then right on Battery Chamberlin Road to the entrance of parking lot.