DAGROUP
PAINTOUT AND EXHIBIT OPPORTUNITIES
Artist Getaway 2017
Half Moon Bay, May 1-5, 2017
Murphys, June 4-9, 2017
Occidental, October 15-20, 2017
ARTIST GETAWAY, INC.
PO BOX 20214
EL SOBRANTE, CA 94820-0214
www.artistgetaway.com - please sign up for the mailing list!
XXXXXXXXXXXXXXXXXXXXXXXXXXXXXXXXXXXXXXXX
FROM BENICIA PLEIN AIR GALLERY
Hello plein air artists, Save the date! August 26, 2017 is the 2nd annual Benicia Plein Air Paint Out. We will have the registration ready soon. But to the point - this email is to invite you to apply to be a part of our Gallery. We will have 2 openings in the next couple of months. 
If you live near Benicia and would like to be a part of our gallery we'd love to receive your application to join.  Our application and information can be found on www.beniciapleinair.com under about / membership. We do recommend you don't live more than 30 minutes or so away as we have events and meetings and gallery docent duty that is required for our members.
XXXXXXXXXXXXXXXXXXXXXXXXXXXXXXXXXXXXXXXX
CALL TO ARTISTS
North Lake Tahoe Plein Air Open
The event will take place Tuesday, September 5 - Sunday, September 10, 2017
Early registration cost is $85 per artist for applications submitted before April 1, 2017
Commission to artists is 70%
Application & Schedule at NorthTahoeArts.com
North Tahoe Arts invites artists of all levels to gather and paint the breathtaking scenery of North Lake Tahoe "en plein air," in the open air. The North Lake Tahoe Plein Air Open takes place September 5-10, 2017 with organized paint-outs and painting demonstration, juried competition and awards and public exhibit during the Autumn Food & Wine Festival and the Farmer's Market Quick Draw Competition. Deadline to apply with early registration fee of $85 is April 1, 2017. Late registration is open until May 1, 2017 with a $100 application fee. Commission to NTA on all art sales is 30%. Applications and event details and schedule can be found at northtahoearts.com. 
North Lake Tahoe Plein Air Open artists will display the artwork they created throughout the week for sale at a public exhibit during the 32nd annual Autumn Food & Wine Festival at Northstar California Resort on September 9 & 10, 2107. Recognized as the premier gourmet food, wine, beer & spirits festival in Northern California, Autumn Food and Wine was voted one of the top 10 food festivals in the country by USA Today. The main competition prizes will be awarded at the festival the morning of September 9 with voting for the People's Choice and Artists Choice award taking place throughout the day. 
For more information please visit:  northtahoearts.com  or email:  pleinair@northtahoearts.com
XXXXXXXXXXXXXXXXXXXXXXXXXXXXXXXXXXXXXXXX
Applications are now available for the
Fifth Annual
MENDOCINO OPEN PAINT OUT 
A Plein Air Festival * September 18-24, 2017 
Application Deadline: August 11, 2017
Early registration is encouraged. Registration is first come,
first served. Space may fill before the deadline.
Mendocino Art Center 
45200 Little Lake Street
P.O. Box 765, Mendocino, CA 95460
707.937.5818 · Toll Free 800.653.3328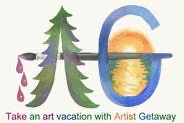 Plein Air Painting in 2016
May 2016 is packed full with painting! Artist Getaway is going to Occidental May 1 - 6 to paint in the redwoods, and at the beach. Then there's the Carmel Plein Air Festival May 11 to 15. Enter here I wish you good luck to all who enter, the deadline is December 1. After that Artist Getaway goes to Murphys to paint the Stanislaus River and Lake Alpine. May is going to be fun! If May doesn't work for you come join us October 16 - 22 when Artist Getaway goes back to Occidental. We do love it there! And stay tuned for more Artist Getaways being planned and posted on www.artistgetaway.com for 2016. 
Artist Getaway 2016
Occidental, May 1-6, 2016
Murphys, May 22-27, 2016
Occidental, October 16-22, 2016
Register today!