DAGROUP
PAINTOUT AND EXHIBIT OPPORTUNITIES
Artist Getaway 2017
Half Moon Bay, May 1-5, 2017
Murphys, June 4-9, 2017
Occidental, October 15-20, 2017
ARTIST GETAWAY, INC.
PO BOX 20214
EL SOBRANTE, CA 94820-0214
www.artistgetaway.com - please sign up for the mailing list!
XXXXXXXXXXXXXXXXXXXXXXXXXXXXXXXXXXXXXXXX
FROM BENICIA PLEIN AIR GALLERY
Hello plein air artists, Save the date! August 26, 2017 is the 2nd annual Benicia Plein Air Paint Out. We will have the registration ready soon. But to the point - this email is to invite you to apply to be a part of our Gallery. We will have 2 openings in the next couple of months. 
If you live near Benicia and would like to be a part of our gallery we'd love to receive your application to join.  Our application and information can be found on www.beniciapleinair.com under about / membership. We do recommend you don't live more than 30 minutes or so away as we have events and meetings and gallery docent duty that is required for our members.
XXXXXXXXXXXXXXXXXXXXXXXXXXXXXXXXXXXXXXXX
PAINTOUT OPPORTUNITY:
Dear Plein Air and Other Artists,
The plans for Menlo College's third annual OAKtoberFest celebration are shaping up, and plein air painting is once again on the agenda. Preliminary details of the event are posted at https://www.menlo.edu/events/oaktoberfest/.
Plein air painters are invited to campus on Saturday, October 28, 12-5 p.m., and we hope you will join us. You can set up anywhere on campus, and free lunch is included; we'll once again have a variety of food trucks for you to choose from. If you like, you may also bring work to sell, but note that you will need to provide your own methods of displaying it.
I'd like to begin getting a rough idea of how many people might want to join us for the event. If you are interested or think you might be interested, can you let me know by Friday, September 29? 
Reply to me at lsmith@menlo.edu if you are interested.
Some of you who participated last year took part in an exhibit of the work, which is ongoing. That is still hanging and we are happy to have it in what is now our Writing and Oral Communication Center (the same room we used for the exhibit). If you want your work back, however, please let me know and we can arrange for you to pick it up.
Everyone had a great day last year, and we're expecting an even larger crowd of attendees for our third annual event. 
Let me know if you have questions.
Best,
Linda
--
Linda K. Smith
Dean of Library Services
Menlo College
XXXXXXXXXXXXXXXXXXXXXXXXXXXXXXXXXXXXXXXX
Applications are now available for the
Fifth Annual
MENDOCINO OPEN PAINT OUT 
A Plein Air Festival * September 18-24, 2017 
Application Deadline: August 11, 2017
Early registration is encouraged. Registration is first come,
first served. Space may fill before the deadline.
Mendocino Art Center 
45200 Little Lake Street
P.O. Box 765, Mendocino, CA 95460
707.937.5818 · Toll Free 800.653.3328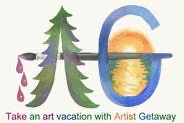 Plein Air Painting in 2016
May 2016 is packed full with painting! Artist Getaway is going to Occidental May 1 - 6 to paint in the redwoods, and at the beach. Then there's the Carmel Plein Air Festival May 11 to 15. Enter here I wish you good luck to all who enter, the deadline is December 1. After that Artist Getaway goes to Murphys to paint the Stanislaus River and Lake Alpine. May is going to be fun! If May doesn't work for you come join us October 16 - 22 when Artist Getaway goes back to Occidental. We do love it there! And stay tuned for more Artist Getaways being planned and posted on www.artistgetaway.com for 2016. 
Artist Getaway 2016
Occidental, May 1-6, 2016
Murphys, May 22-27, 2016
Occidental, October 16-22, 2016
Register today!