DAGROUP
PAINTOUT AND EXHIBIT OPPORTUNITIES
XXXXXXXXXXXXXXXXXXXXXXXXXXXXXXXXXXXXXXXX
California State Fair - Plein Air July 21-22
http://www.castatefair.org/plein-air-fair/
Both novice and expert painters are invited to come out with an easel and paints to carry on the tradition of painting "en Plein Aire" – a French term literally translated as "In Open Air."  What better place for a "paint out" than capturing the iconic images of the California State Fair!
Paint Out Weekend: July 21 – 22
Top three paintings at the end of the weekend will be awarded first, second and third place cash prizes. Must be a California resident 18 years of age or older.
Entries Close Online: July 6
Alameda County Fair - Plein Air June 28th
http://annual.alamedacountyfair.com/pdf/exhibits/adult/Fine_Arts_Guide.pdf
must sign up by June 27th. Paintout on June 28th.
Also has a fine arts contest … must sign up by April 25th. Go to above link for details. 
Marin County Fair - Plein Air June 30th
https://www.marinfair.org/~/media/files/fair/2018/exhibits/plein-air-live-fairtime-contest-adult.pdf?la=en
Must sign up by May 10th. Paintout on June 30th. Go to above link for details.
Frank Bette Center Paintout
https://www.frankbettecenter.org/plein-air-paintout.html
13th Annual
2018 PLEIN AIR PAINTOUT
July 30 - August 4, 2018
Application Deadline - Sunday, April 22, 2018
Go to above link for details.
Benicia Plein Air Gallery Paintout
http://www.beniciapleinair.com/index.html
must sign up by Aug. 10th. Paintout on August 25th
Go to above link for details.
Mendocino Open Paint Out
http://www.mendocinoartcenter.org/pleinair
Paintout Sept. 17-23, 2018 (no entry date posted yet)
Go to above link for details.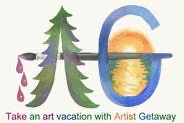 Plein Air Painting in 2016
May 2016 is packed full with painting! Artist Getaway is going to Occidental May 1 - 6 to paint in the redwoods, and at the beach. Then there's the Carmel Plein Air Festival May 11 to 15. Enter here I wish you good luck to all who enter, the deadline is December 1. After that Artist Getaway goes to Murphys to paint the Stanislaus River and Lake Alpine. May is going to be fun! If May doesn't work for you come join us October 16 - 22 when Artist Getaway goes back to Occidental. We do love it there! And stay tuned for more Artist Getaways being planned and posted on www.artistgetaway.com for 2016. 
Artist Getaway 2016
Occidental, May 1-6, 2016
Murphys, May 22-27, 2016
Occidental, October 16-22, 2016
Register today!