DAGROUP
PAINTOUT AND EXHIBIT OPPORTUNITIES
XXXXXXXXXXXXXXXXXXXXXXXXXXXXXXXXXXXXXXXX
The Napa County Library invites artists to apply to a juried competition with award winners' work displayed in the Napa Main Library.  All two-dimensional work including photography, paintings, drawings, digital, mixed media, fabric art, chalk, ink, pastels, wax, graphite and printmaking can be entered for consideration. There is no fee. 
Applicants can submit up to 5 digital image files (jpeg format) of the artwork on a CD. Artists can also apply electronically via Dropbox. For more information contact Stephnia Pramuk at ArtintheLibrary@countyofnapa.org or at 707-253-4223.
The deadline to apply is March 31, 2019.  For more information about the program, contact Stephnia Pramuk at ArtintheLibrary.com  
Application Deadline: March 31, 2019
Stephnia L. Pramuk
Reference Library Associate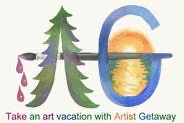 Plein Air Painting in 2016
May 2016 is packed full with painting! Artist Getaway is going to Occidental May 1 - 6 to paint in the redwoods, and at the beach. Then there's the Carmel Plein Air Festival May 11 to 15. Enter here I wish you good luck to all who enter, the deadline is December 1. After that Artist Getaway goes to Murphys to paint the Stanislaus River and Lake Alpine. May is going to be fun! If May doesn't work for you come join us October 16 - 22 when Artist Getaway goes back to Occidental. We do love it there! And stay tuned for more Artist Getaways being planned and posted on www.artistgetaway.com for 2016. 
Artist Getaway 2016
Occidental, May 1-6, 2016
Murphys, May 22-27, 2016
Occidental, October 16-22, 2016
Register today!