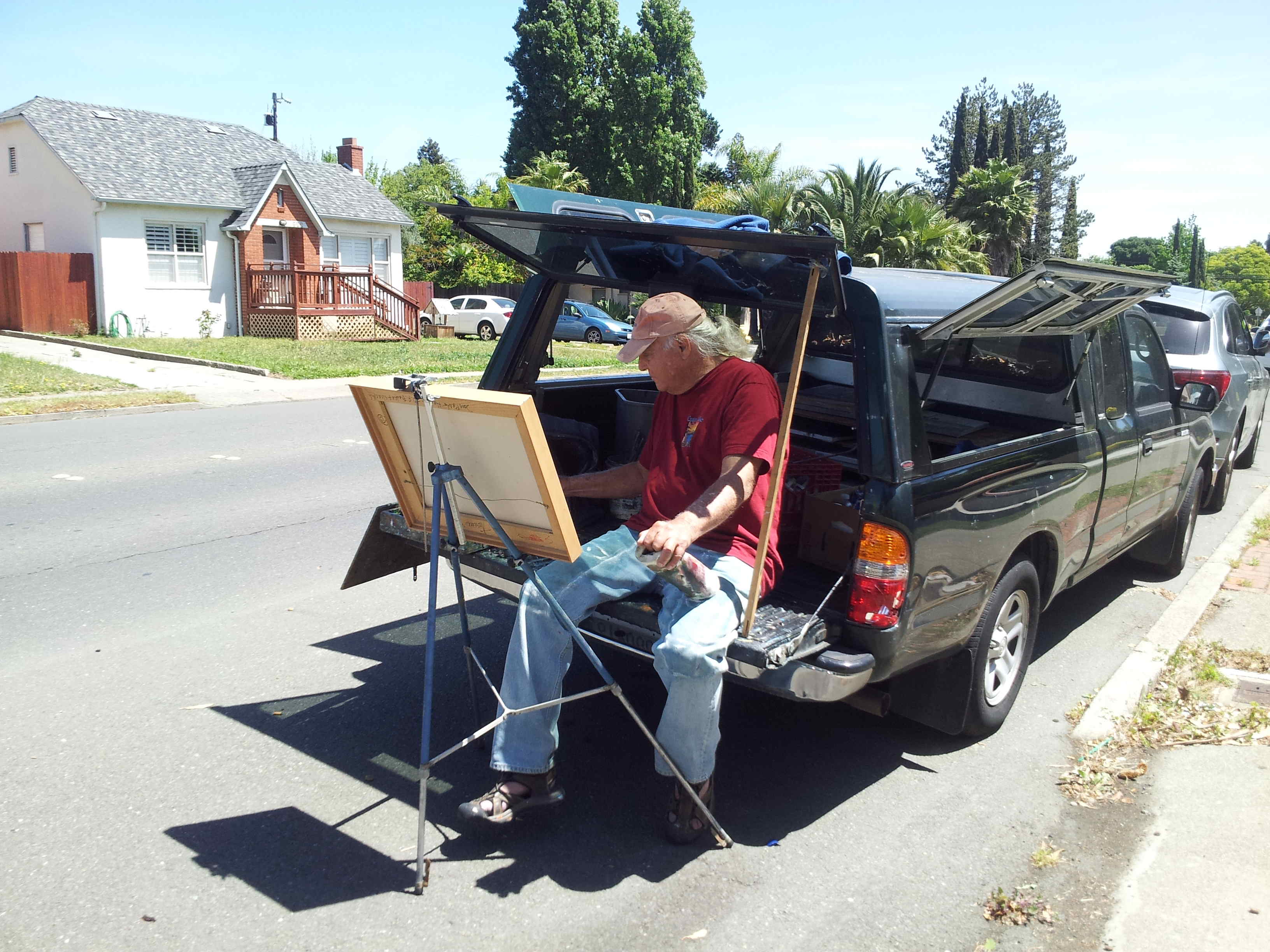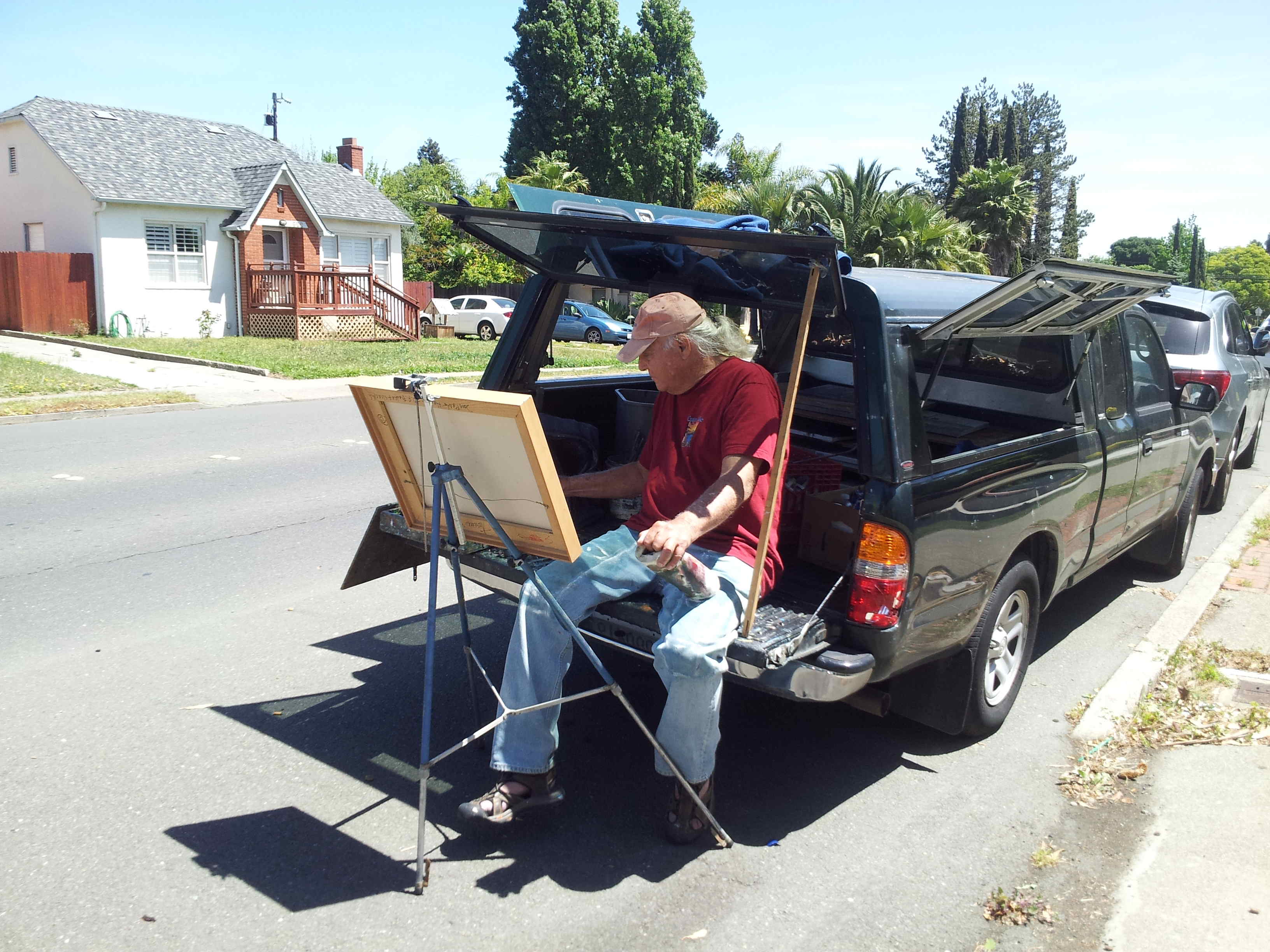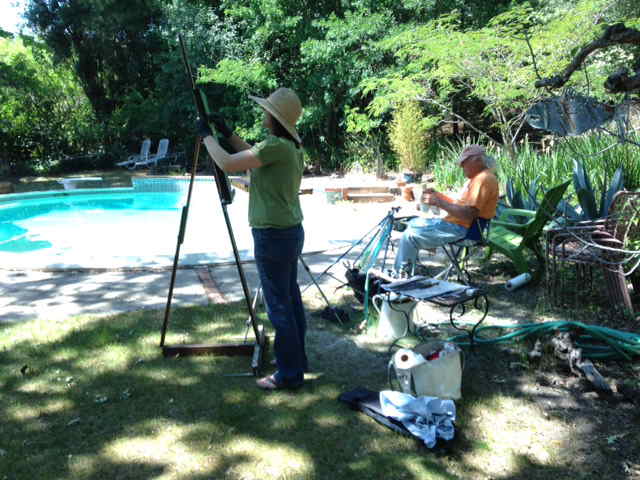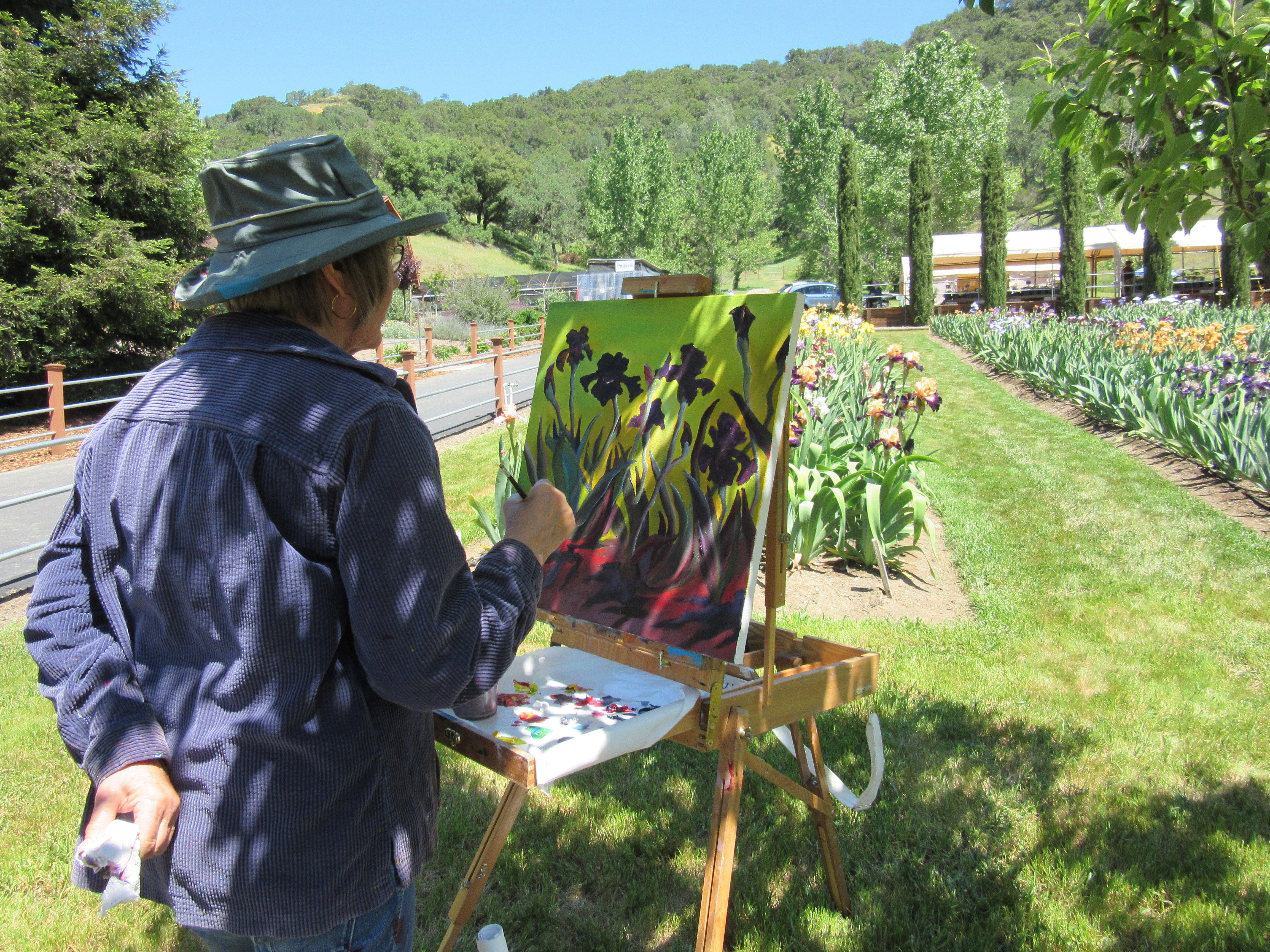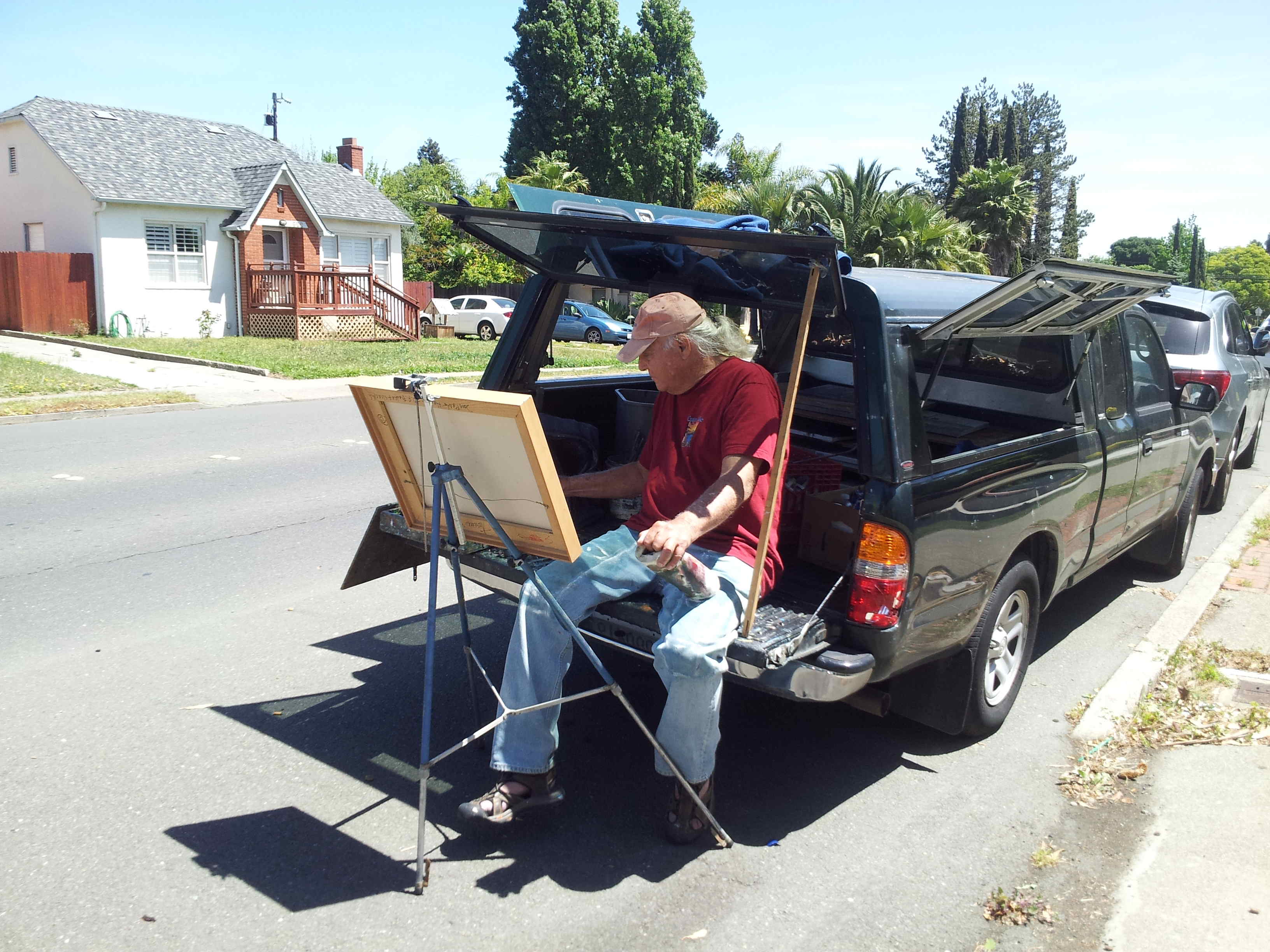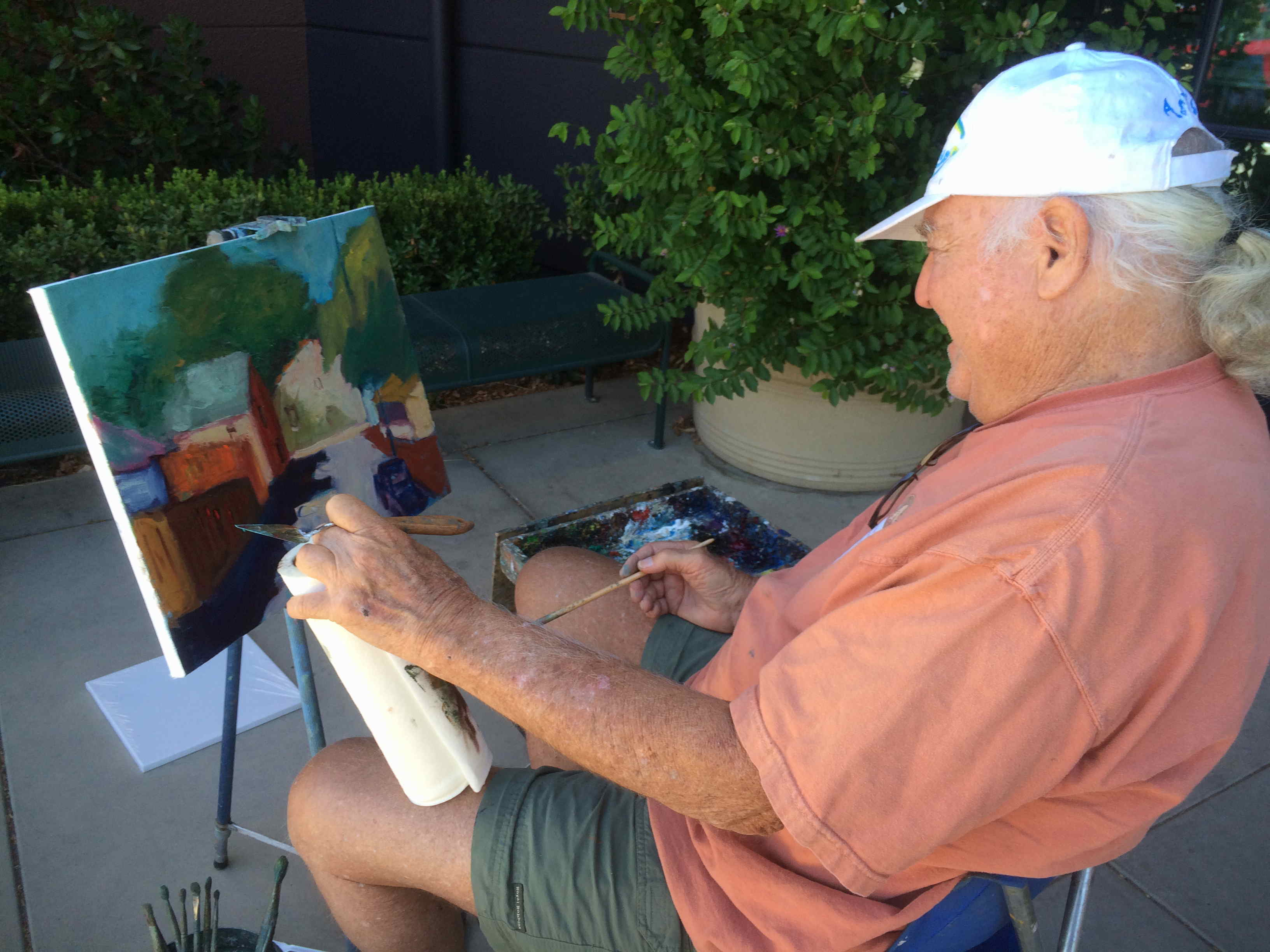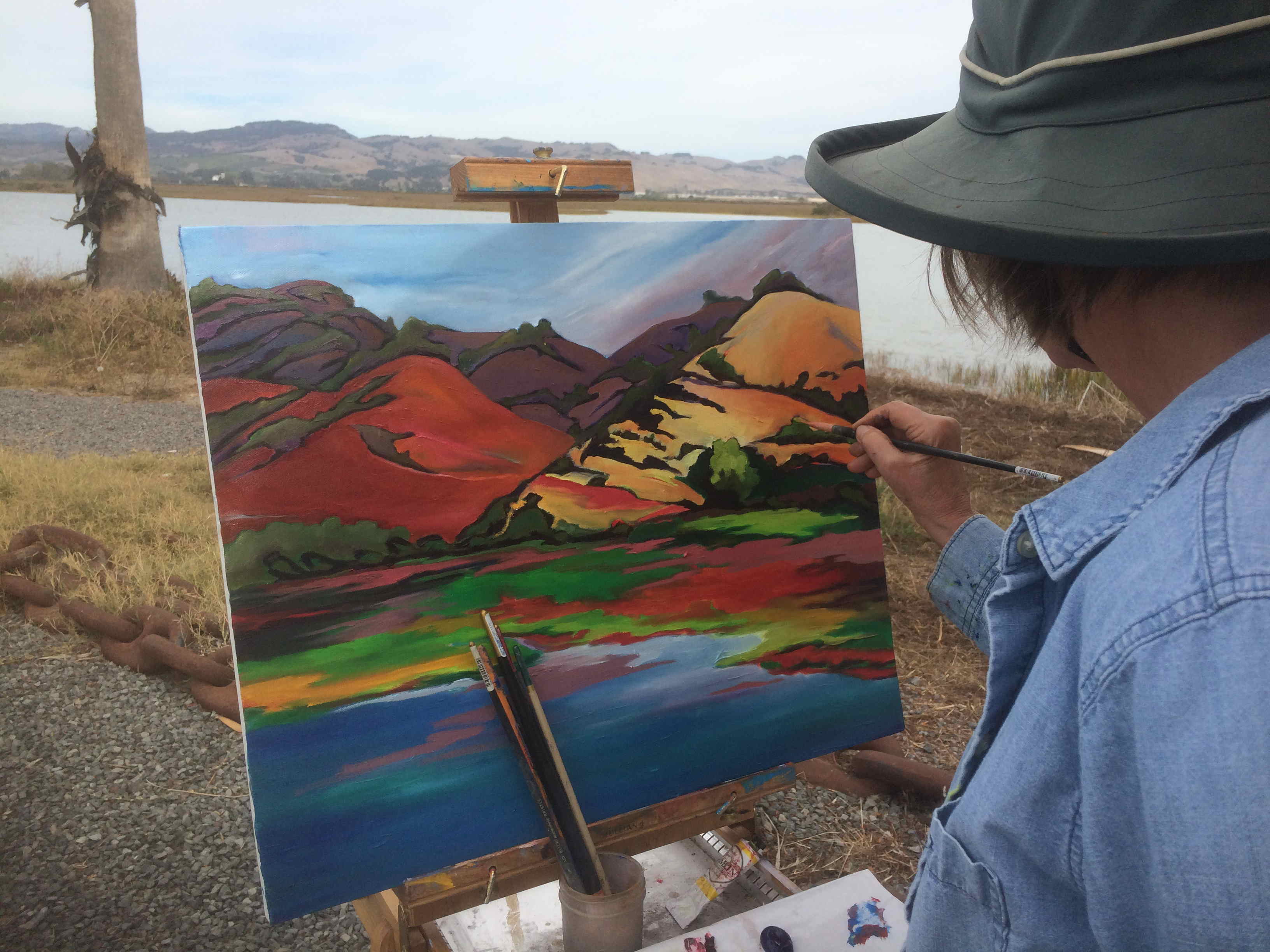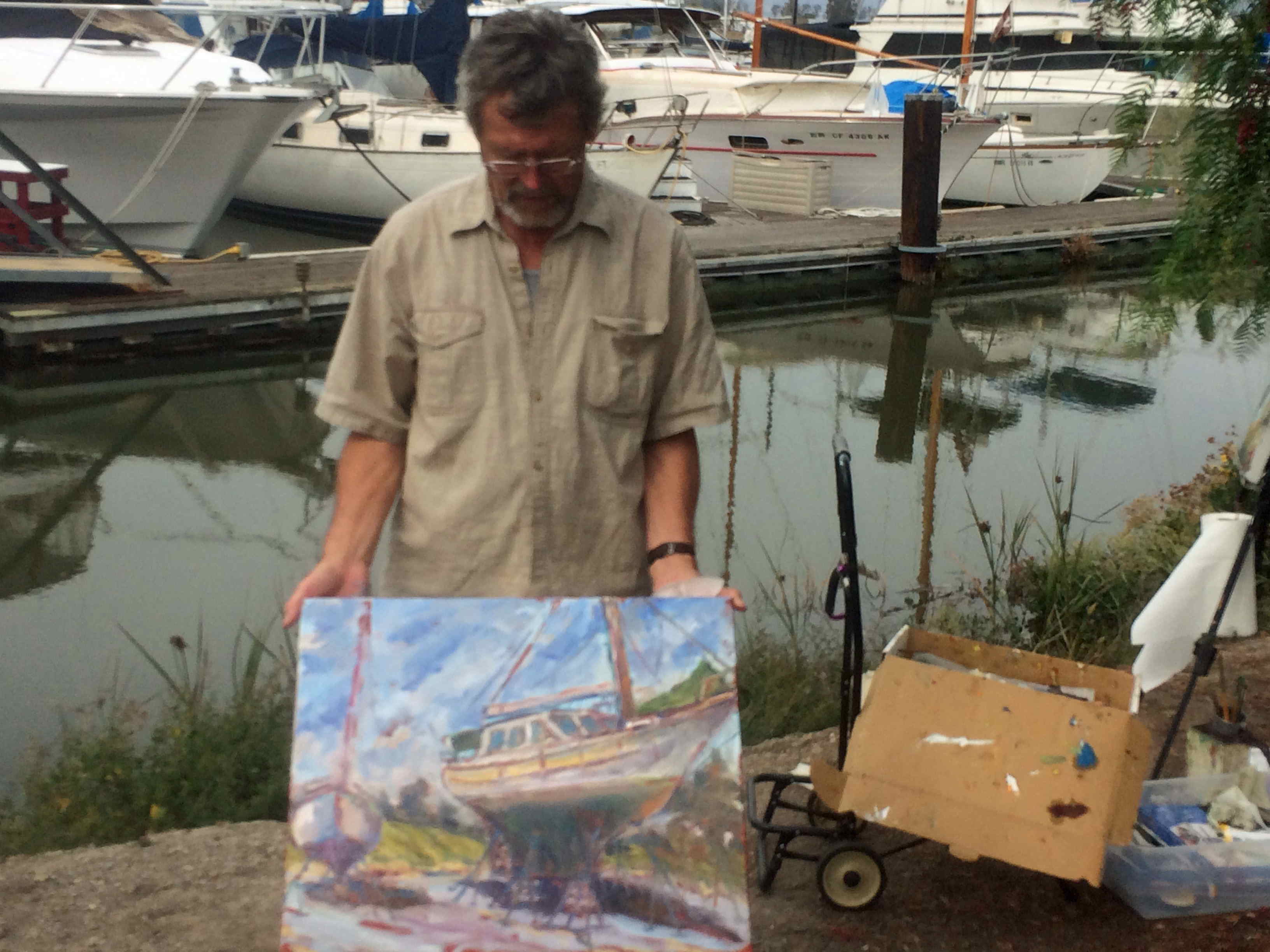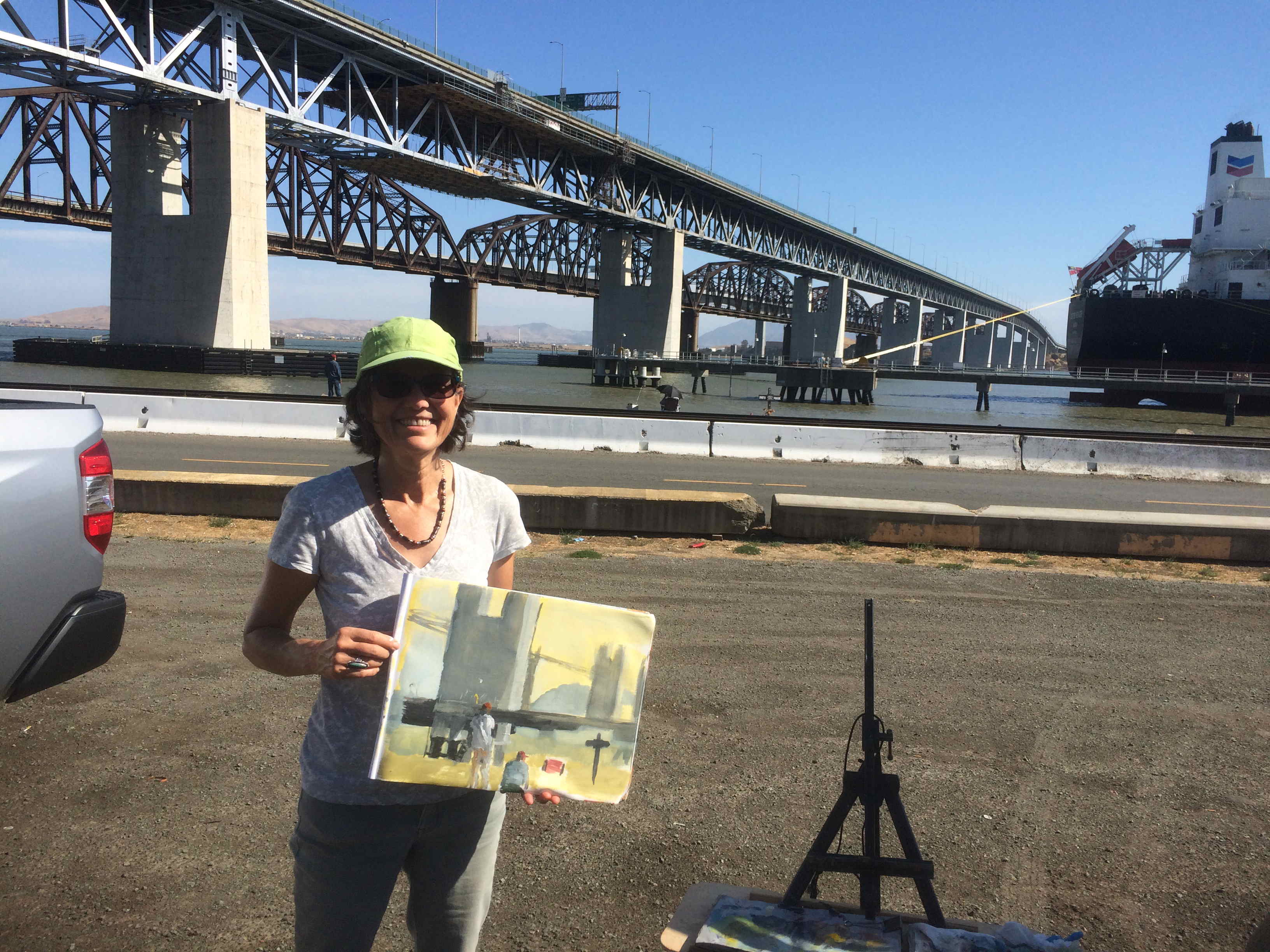 DaGroup paint-outs are every Sunday (or sometimes Saturday). 
Painting times are generally from 11am to 3pm ... refer to schedule below. Critiques will be at the end time, at locations deemed best at the time. Paintout locations are subject to change due to current events and/or weather ... Check this schedule a couple of days before to verify location and obtain more details, such as directions.  Bring a bag lunch. Come and enjoy the day.
Rain cancels
Details are below.
______________________
2018 (schedule subject to change; check website before you head out)
Apr 22 - Briones Park
11am to 3pm
Directions from Benicia:
Take hwy 680 south (5.2m); take hwy 24 west (3.6m); take exit 9 for Alhambra Ave toward Martinez; turn left onto Alhambra Ave (0.6m); turn right onto Alhambra Valley Road (1.3m); turn right to stay on Alhambra Valley Road (0.1m); Slight left onto Briones Road (look carefully for sign) (1.5m); go to end of road to parking lot ... can stop at a couple of viewpoints along the way if you find parking space.
Apr 29 - Napa Country Iris Gardens (36 miles, 53 minutes)
Directions: North on hwy 680, East on hwy 80 (0.2m); take Suisun Valley Rd/Pittman Rd exit and turn left onto Pittman Rd/Suisun Valley Rd (7.3m); continue onto Wooden Valley Road (6.6m); turn right onto CA-121 S (5.5m); turn left onto CA-128 W (443 ft); Turn right onto Steele Canyon Road; about a mile turn right into entrance 9087 Steele Canyon Road, Napa, CA
May 5th and 6th - Benicia Open Studios
Eleven DaGroup artists will show their artworks in Benicia at 640 E. "L" Street.
May 6 - CLOCKTOWER, Benicia
Directions: Take East 2nd Street exit off of hwy 780, and go downhill to Military East and turn left onto it; take a slight left onto Adams Street; then a slight left onto Washington Street; turn left to stay on Washington Street. (follow signs when you get close … it's up the hill on the left)
May 13 (Mom's Day) - Point Richmond, Nicholls Nob 
The top of Crest Ave has gorgeous 360 degree views of the bay, Point Richmond, and of the Miller Knox Regional Park. The painting spots are shady, and will appear almost immediately after leaving the trailhead. This trailhead leads to a comfortable paved road that goes up to the flat top of this hill, for those who prefer carting their gear. A strenuous hiking path going straight up also ends at the top. This short path can be a shortcut for someone fit with their gear in a backpack. People who don't want to walk all the way to the top will be happy at the trailhead, or the nearby shoreline parks. 
Directions: From 80, take the Cutting exit all the way to Point Richmond if you are coming from El Sobrante or Pinole. If you are coming from Berkeley, take 580 to Cutting Ave, then follow signs to Point Richmond. Go up Washington Ave, then left on Crest Avenue all the way to the trailhead near the top of this hill. Bathrooms are down the hill at the shoreline parks which are also a great place to paint.
May 20 - CROCKETT DOWNTOWN
        Directions from Benicia: West on hwy 780; south on hwy 80; take Pomona Street exit toward Crockett (first exit over bridge); left onto Pomona to Second Street area ... paint anywhere downtown or nearby neighborhoods.
May 27 - Napa Valley Marina, 1200 Milton Rd
Directions: go west on Hwy 780, then east on hwy 80 (2.8m), go west on hwy 37 (1.4m), take CA-29 exit and turn right onto CA-29 north (9.5m), use 2 lanes to turn left onto CA-12W/CA-121 (1.4m), turn left onto Cuttings Wharf Rd (1.8m), slight right onto Las Amigas Rd (0.3m), turn left to stay on Las Amigas Rd (0.3m), Continue straight onto Milton Rd (0.8m). Paint at Marina for water and boat scenes, or along the way in for vineyard and countryside scenes.
Jun 3 - Heather Farms Park
        Directions from Benicia: South on hwy 680 (10.3m); take the exit toward Treat Blvd/Geary Road, keep right and merge onto N Main Street (signs for Treat Blvd); left onto Geary Rd and continue onto Treat Blvd (1.1m); right onto Bancroft Road (0.7m); right onto Ygnacio Valley Road (0.4m); right onto N San Carlos Drive (0.3m), pond is on the left by large parking lot. 
Jun 10 - BENICIA EAST FIFTH ST. WATERFRONT / MARSH
Directions: Take East 5th street exit off of hwy 780 in Benicia; go down towards water until the end of the street, then turn right into big long parking area.
Jun 17 - MARE IS. FLATS, CRANES
        Directions from Benicia: West hwy 780 (5.4m); continure onto Curtola Parkway (1.5m); continue onto Mare Island Way (1.0m); left onto Mare Island Causeway, (0.9m) over the bridge then first left onto Nimitz Ave to around 9th Street. Paint anywhere in the area. 
Jun 24 - ALAMEDA ESTUARY AT THE ALAMEDA FERRY STATION
Jul 1 - LARRY'S PRODUCE
Directions from Benicia: North on hwy 680; East on I-80; take first exit for Suisun Valley Road/Pittman Rd; turn left onto Pittman Rd/Suisun Valley Rd; follow Suisun Valley road for a couple of miles; Larry's Produce in on the right at Ledgewood Road. Don't drive into farm … park in lot or across the street. Careful, cars drive fast on Suisun Valley Road. 
Jul 8 - Mulholland Hill, Orinda
Directions from Benicia: Take hwy 680 south (12m), continue on hwy 24 west (5.8m), take exit 9 toward Orinda, merge onto Camino Pablo, continue onto Moraga Way (2.1m), turn left onto Hall Dr (0.6m), at the traffic circle, take the 1st exit onto Donald Drive. 
Jul 15 - CHINA CAMP Village, BBQ
Directions: Take hwy 780 east; then hwy 80 east toward Sacramento; then hwy 37 west; then hwy 101 south (7.8m); take exit toward Central San Rafael; continue onto Hetherton St; left onto 2nd street; continue onto 3rd street; continue onto Point San Pedro Road; turn right at China Camp Village signed entrance (pay for parking at pay stations)
Jul 22 - UNION HOTEL,  WASHINGTON  HOUSE, FIRST ST. BENICIA
Jul 29 - BERKELEY MARINA 
Directions from Benicia: Take hwy 780 West; then hwy 80 South; take University Ave (exit 11) exit; turn left onto University Ave; go all the way down to the end and turn right onto Seawall Drive; go to end of Seawall Drive and turn left into HS Lordships parking lot, then circle back to the cove end of the parking lot … benches by the cove. Or paint on the other side of Seawall Dr and look toward SF. If windy drive back around the marina to find sheltered spots (the other side of Seawall Drive).